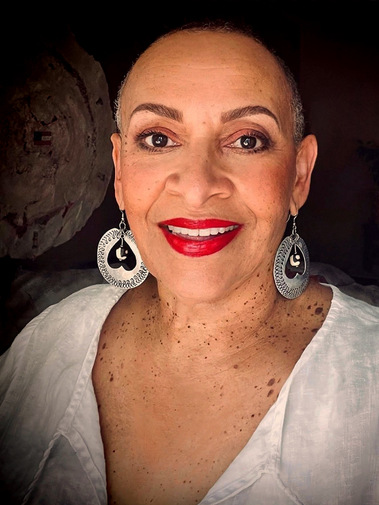 "A life long love of experimenting with many mediums, somehow paper has always remained at my core."
ROSALIND NZINGA VAUGHN NICHOL is a mixed media artist and papermaker. For decades she has worked in multiple mediums. Beginning as an illustrator and graphic designer in the 1970's. Work in display design greatly influenced a love for the versatility of paper as an art medium. Initially prompting work with papier-mâché sculptures and assemblages.
Currently Rosalind's art focuses on incorporating handmade paper into mixed media collages and paintings. Inheriting an appreciation for repurposing vintage textile and found objects from her grandmother. "She would reuse everything from an old garment down to the thread. Nothing in our house was ever wasted" she says, "and there is something grounding for me to give things with history new life in my art."
"I believe my art has a lyrical and spiritual quality. That pleases me because I purpose to live a spiritually centered life. My abstracted narratives are intentionally vague. Since the things that touch and feed our souls are not always tangible. I want the viewer to have the freedom to find meaning, with or without, the guidance of my intentions and symbolism. Though I feel deeply connected to the complexities of my American Afrocentric roots, and generally incorporate Africana iconography and textiles into the work."


Rosalind Nzinga Vaughn-Nichol was born in Indiana into a multi-generational family of artisans and crafts persons. She studied drawing and painting at Herron School of Art and Design, at IUPUI in Indianapolis, Indiana; received a BFA from California State University, in Long Beach, California; and a M-Div. in Pastoral Care, and a MA in Education from Oral Roberts University in Tulsa, Oklahoma. She presently lives in the northeastern USA.